Harry Potter Wedding Inspiration
I just watched Harry Potter and The Deathly Hollows Part 1, which filled me with excessive amounts of inspiration. I think that all of the Harry Potter movies really pull off a realistic magical setting, even more so in the latter movies. I started freaking out when I saw the wedding scene. I love the purple tones which are mixed with a very natural and Victorian feeling. What I think I enjoyed the most about that scene is Fleur's (the bride's) dress. I was freaking out it's so beautiful.
First shot of the dress and inside the reception party.
Designer:
Alexander McQueen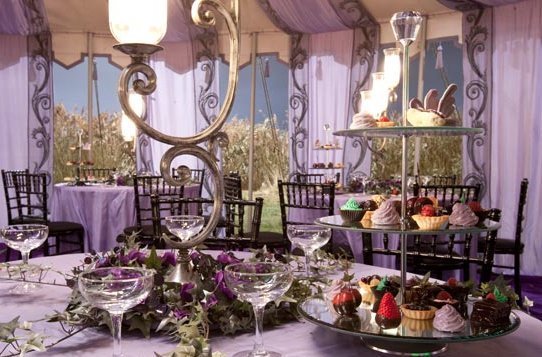 Inside look at the Harry Potter set. Look at Those cutie desserts!
It's a little hard to see but even the bride's headband is amazing. Like a stiff, black, lace headpiece with jewels.
AH! I can't wait for part two! Especially 3D!!